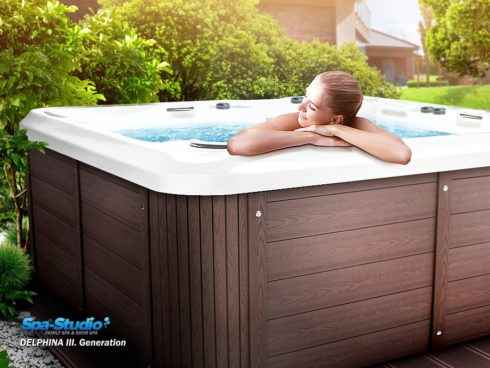 Queen of family whirlpools is called Delphina III. Generation
Meet this unique whirlpool which excels in its class not only thanks to its timelessness, but also to its appearance and family setting. This is an elegant family whirlpool which is also very economical. Its design will fit any concept of a house, a garden or a terrace. You will fall for it once you see it and you will be pleasantly surprised with a variety of usage for the whole family and with extremely low operation expenses. Delphina III. Generation is also a perfect family model with regards to its safety. Safety elements are immediately recognized, i.e. stainless steel handrails, anti-slippery stepping area and other details which also serve for a better visibility in the water. This model also offers an opportunity of two couchette places which are equipped with massage jets, the same offered for seat places. Room for sitting and lying is situated close so users of the whirlpool can share the same view. Thanks to its unique trapeze and neck massage it can perfectly help to relieve stiff muscles. Delphina is practical and therefore offers comfort and safety for users of all age groups, for children as well as for elder people.
This whirlpool has been recognized as one of the most favourite ones for already ten years. This model has been closely watched and has been already three times innovated and enhanced, especially in its aesthetical and functional aspect. Here comes its new title Delphina III. Generation.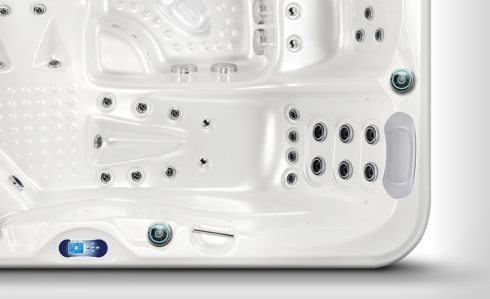 We shall not forget to mention an economical part of this whirlpool. Its low power consumption cannot be competed. It is needless to say the whirlpool requires just reasonable amount of water for its standard operation. Considering its large dimension (2,3m x 2,2m) this whirlpool is perfectly designed in its disposition so there is limited waste of water. This way the whirlpool becomes very cost effective. Have you ever seen whirlpools with quite artificial sheathing which makes them look cheap? Even this detail is solved. Modern and unique technology of sheathing made from high quality wood-plastic material resistant against damage and outside elements helps to fit this whirlpool into any surrounding. There is a choice of several colour designs starting with light and dark brown and ending with grey shades. Special material of realistic wooden look and calming colour shades will make a perfect fit in any exterior or interior, perhaps even in your own home.
If you are looking for a whirlpool which would perfectly fit your home and would be a good choice for all your family members, we can highly recommend you this model as the best possible choice. Its sophisticated and detailed design will meet the needs even of the most demanding customers. The Delphina model perfectly fits current lifestyle which main focus is on multifunctional and economical aspects of a bought product with regards to environment and overall product safety. This whirlpool model meets all users´ requirements; all year use, cost effective power consumption and safety aspect which makes this model the best choice which will be cherished by young ones as well as elder ones. If we consider a nowadays trend of very individual demand and choice of each customer, we can honestly admit that this won´t be an issue in case of this whirlpool model since our sales assistants are always willing to help and advise the best solution for everybody. So, you can be sure to find the right model which will be practical, fun and make all your dreams and wishes come true.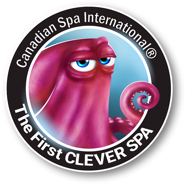 With the best regards and many thanks
Jan Mikisek CEO for Europe.