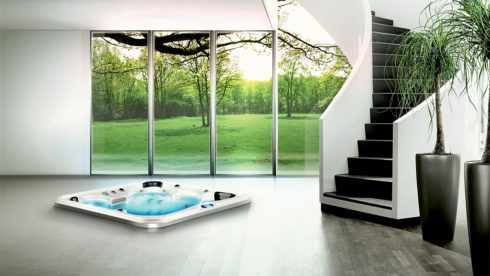 Whirlpool bath as an affordable home spa
Modern whirlpool baths can be used all year round.   Smart remote control system provides smooth and effective control and energy costs optimization.
You can enjoy your home spa anywhere and anytime. What can impact operating costs of your whirlpool bathtub? First off, it is its size. Apart from that, you must take its setting and surroundings into consideration, i.e. whether it is placed in a windy or secluded place.
What is the main factor you should take into account, is the view from the bath. Then it is the range of its practical uses and its aesthetic qualities what should match with the surroundings. Purchase price and operating costs should be the very last one, as a default number can be misleading. A new generation whirlpool bath should be perfectly insulated to provide low-cost operation and high energy efficiency. If you are going to have your bath embed indoors, there is no need to take the economical questions into consideration. The operating costs will be reduced with heating costs then. The only costs you can expect are maintenance, regular filtration, and cleaning costs.