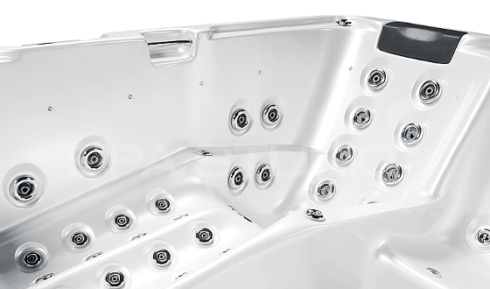 Whirlpool bath at its best: ergonomic massage bed
Every whirlpool bath should provide a comfortable and ergonomic massage in the first place. What is important here, is a system of independent pressure regulation for each body area.   In premium whirlpool baths or swim spas you can individually setup pressure for each massage or swimming jet.
By means of this article, we would like to give advice to all of you who are interested in buying a whirlpool bath. It is crucial to have a basic knowlegle that enables you to choose the best product according to your needs. Let's start with the rudiments: the most important part of a whirlpool bathtub is a massage bed.
The massage bed should be completely ergonomical and anatomically shaped and adapted to various body types, witch various heights and weights. An adequate massage bed should not limit other bathtub features, nor it is unreasonably shortened or too flat, when even regular-sized, medium-height persons cannot be fully sunken in the water. A bed failing those basic requirements is useless. It goes without saying then that no massage system based on wrongly designed beds can work properly, nor provide relaxation and relief to its owner.
If you can afford a bigger whirlpool bath, we strongy encourage you to buy a model with two massage beds. It will turn to be a returnable investment for sure.