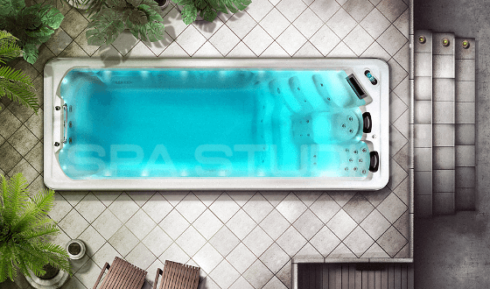 SWIM SPA Octopus is a complex home swimming center
The king-sized OCTOPUS swimming pool can be placed anywhere, as it is not particularly space-demanding.   This sporty swimming model provides a unique swimming backflow system, with the option of pressure and flow direction regulation.
Simple and highly effective swivel joint inside the Typhoon jet head creates thistle streamline effect, and thanks to three swimming jets placed into two working lines, even a weaker swimmer can enjoy swimming without any unpleasant turbulence effect. This effect is able to move a swimmer out of his swimming line.
Every single TYPHOON jet connects its delivery stream with other ones, creating strong and bulky water column that takes the strain off the swimmer's chest, making the swimming easier. Slighter people can change the direction of the flow and take advantage of the lifting option. Thanks to this smart and simple system, swimming can be enjoyed not only by top sportsmen but also by ordinary people who just wants to swim a bit.
We strongly recommend buying SPORT SWIM KIT as a supplement to hydromassages and swimming. It is a set of rubber fixing strings dedicated to full body workout, especially for arms, shoulders and back. For overweight persons water walking against the flow is recommended. Octopus swim spa can be a free-standing pool in the garden or it can be embedded into the floor in the house. Another option is to embed the bath partially, for instance in a hilly garden.