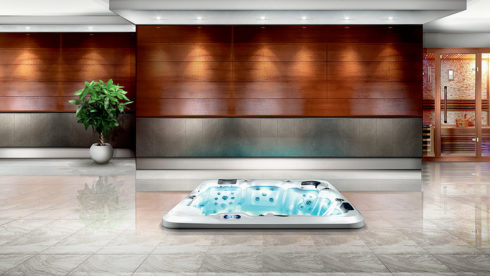 A premium whirlpool bath deserves stylish and beautiful setting.
What is really important when it comes to subliminal perception of a whirlpool bath, is its setting.   Dimensions and colors shall be picked with respect to its surroundings. Everything should match.   A whirlpool bath can not only bring relaxation and well being but also pleasant aesthetical experience, serving as a stylish accessory to your garden, terrace, or any indoor space.
Thanks to various color versions of case, frames, and thermo covers, it is very easy to achieve matching look of the bath and its environment. On the other hand, you can take advantage of the wide range of colors and create the wellness space based on lively contrasts.
Another important factor when it comes to arranging home wellness, is the space and its limited dimension that are often the main argument to take into account when buying a bath or a pool. Sometimes an original vision must conform to real available conditions. Our customers are always offered help with creating visualizations of a particular model, as well as professional and objective consulting.