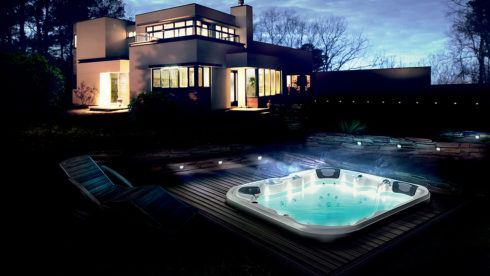 Sunken Outdoor Whirlpool Bath
What we find the most sightly, is the fully sunken option placed outdoors, on a terrace or in a garden.   Apart from the easthetical perspective, it is also the most energy-efficient option.
Fully sunken outdoor whirlpool baths are not only very minimalistic and tasteful, since they do not disturb their surroundings in any way, but also a practical accessory for your garden or yard. This soution is limited by a specific technology of construction which consists of building a prearranged shaft.
The shaft must be tailor-made in order to provide smooth operation and unlimited access to an engine room and other technological space. What is crucial too, is to provide suitable wiring for safe using and service. We recommend the fully sunken option to all of you who have anough outdoor space for technical and constructional preparations. It is recommended to already finished gardens and terraces, sensitive to any new distrubing elements as well.