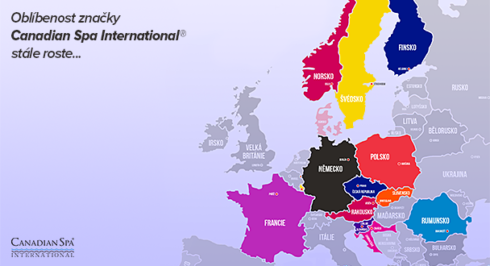 Popularity of the brand Canadian Spa International® is continuously raising..
Popularity of the brand Canadian Spa International® is continuously raising and hasn´t been stopped even by the severe Scandinavian winter.
By the beginning of the year 2018, the brand Canadian Spa International® has also become available in Scandinavian countries. Increasing demand from the side of our northern partners is especially due to our unique thermal insulation features which are really crucial for proper functioning in the coldest climatic conditions.
Internationally protected trade mark Canadian SPA International® has noticed greater interest in business activities from the side of the foreign business partners in the last few years. Since 2013 strategically business positions have been taken throughout the European countries, such as France, Germany, Poland, Slovakia, Romania, Croatia, Slovenia, and also outside of Europe in Israel and some others.
Unique models and premium quality have lead to official distribution of the brand Canadian SPA International® newly also in Finnland and it is assumed to grow further across its borders, and so to Norway or Sweden. Every foreign partner must comply with the most strict criteria to ensure exclusiveness and the highest standard of sales and customer services for each client. Quite regularly, our protected brand is confused with other brand names which produce and deliver low quality products, especially coming from the Asian, but also from the American market. Desperate competitors might also use misleading statements or defamation in order to suceed.
NOTICE:
We would like to advise our customers and business partners that the producer Canadian Spa International® makes and delivers only products of the highest quality, and every component and technology are original and certified. Each product is subject to the most thorough exit control of quality during its production and completion.
Your team
Canadian Spa International® Czech republic