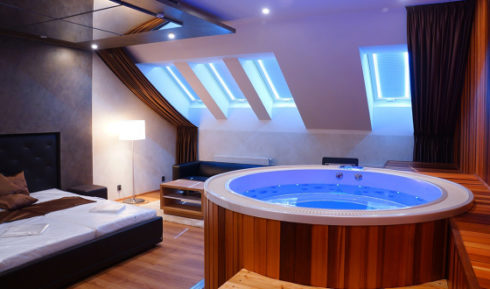 How to fit the spa in the limited space?
What about if you don't owe enough large gardens where you could set your spa? It doesn't really matter, since there are also small spas suitable for 2 or 3 persons available. A small spa and a few additional accessories might help to create a perfect home spa. Let´s see below how to do it:
The spas Canadian Spa International® can help to create a perfect home spa in your home, although you have available only limited space. Even the small spas can offer enough room for ideal relaxation and at the same time offer top class equipment. They can comfortably accommodate 2 to 3 persons and so even in a front garden or a terrace.
Create your privacy
Whether the spa is situated in a front garden or a terrace, you might require for relaxation privacy and tranquility. You can easily reach such state by adding savanna grass or other material to bars.  If you require a separated corner you can also use a screen.
Use plants for decoration
Plants always help to relax. In the summer it helps to decorate with beautiful and scented flowers. Additionally decorate with green plants which remain decorative even in colder season. It can never be enough of flowers and green plants.
Flat surface
Before placing the outdoor spa in a garden, a terrace or a balcony assure that the surface is flat and even. Especially, gardens often have uneven surface. It must be assured that the spa is positioned on the flat and even surface so it can be used effectively.
Fence made of plants
Fences made of plants can also help to create a private area and so enjoy spa atmosphere even more enjoyably. Juniper can serve this purpose just perfectly fine. Very pleasant atmosphere can be created by using rampant plants such as grapes.
There are a lot of opportunities and possibilities how to make surrounding of your spa cozier. Plants and privacy shouldn't be certainly missed.