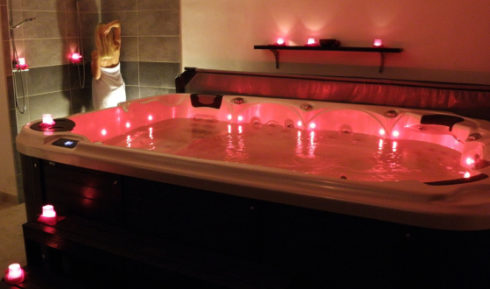 GLADIUS: The spa that can substitute even a swimming pool
Do you enjoy time spent in water but summer is too short where you live? Do you enjoy stay in a pool if its water is nicely warm? Have you got enough space in your garden? Then, we have a perfect option for you. It is an outdoor spa that can easily substitute an outdoor pool and offer even something extra. Let us introduce the spa GLADIUS by Canadian Spa International®.
The spa GLADIUS can please everyone who enjoys stay in an outdoor pool in warm water. This spa can substitute to certain extent even the outdoor swimming pool and offer even some extra values. The model GLADIUS offers a spacious functional area where up to 7 persons can comfortably relax and each person can use its own massage zone.
Thanks to multiple level regulation system you can enjoy perfect massage designed directly to your needs. This gigantic spa allows setting of optimal intensity of hydro massage and provides you with sport massage after physical demanding activity, also deep pressure massage which is especially suitable when suffering from backache caused by a whole- day-sitting job.
The spa GLADIUS can furthermore use technology MicroSilk® which creates micro bubbles with healing effect and creates an ideal oxygen bath. This system helps to treat skin problems and rejuvenates human skin.
As the other spas, the model GLADIUS can offer perfect relaxation for your body and mind and can help to solve problems with backache, joints and insomnia. Hydro massage stimulates hormones of happiness which can help you to forget about daily problems more easily. Especially, if you´ve got an office job you will appreciate unique hydro massage technology which helps to warm up stiffed muscles and deeply massage your back.
The spa GLADIUS offers comfortable sitting in combination with highly effective hydro massage and swimming space. That´s full package!