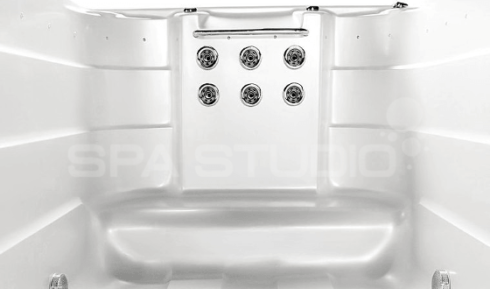 A Whirlpool Bath or a Small Swimming Pool? The Answer Is: Go For Both!
The SWIM SPA range offers much more than a mere combination of a whirlpool bath and a shallow and narrow   mini-pool.
SWIM SPA as a premium dual swimming-whirlpool bath. We chose NAUTILUS XXL as a case study. Let's compare its strenghts and weaknesses. The SWIM SPA concept can consist of independend swimming pool with a backflow and massage system, or it can be combined with a whirlpool bath. There are many various size and shape options. Many of the SWIM SPA products are similiar in terms of width and depth though.
What is the key factor when it comes to the swimming part, is its width and depth. It goes without saying, as the wider and deeper the pool is, the better swimming experience it provides. In 2013 Canadian Spa launched a new type of king-sized, very deep home swimming pools combined with a wellnes center, branded NAUTILUS XXL. The spa part offers a deep whirlpool bath with massage jets, the other part consists of premium deep swimming pool with adjustable backflow system and hi-tech technological equipment.
This premium model is recommended as substitute for regular outdoor swimming pool. It works all-year-round without limits.