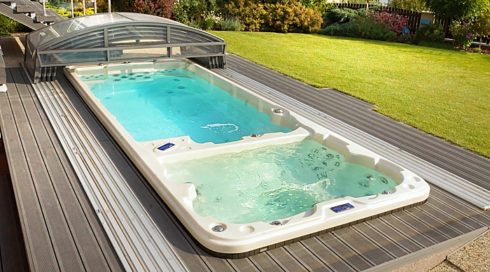 SWIM SPA, or a Premium Swimming Pool and a Whirlpool Bath for Four Seasons
We would like to present the most advanced and popular self-cleaning SWIM SPA system.   The NAUTILUS XL concept is still an unbeatable leader of its range.
This king-sized swimming center independently combined with a whirlpool bath is aa high return investment in the context of our Central-European climate, offerring many benefits incomparable with any regular outdoor swiming pool.
There are many options of placing, amongst them the option of partial embedding is the most recommended. A SWIM SPA can be also temporarily left as a free-standing one, while you finish its technological and construction base step by step. Another version of partial embedding is a bath half-sunken in the slope. The free-standing part can be covered with eye-catching wooden or plastic panels. Many clients prefer the fully sunken option though, when a SWIM SPA is put under the ground and it does not disturb its surroundings.
Thanks to the two independent swimming and wellness parts it is possible to empty and winterize the swimming area during the cold season, and use only the whirlpool part. Many customers use the swimming part even in the cold season, as a cooling pool after taking a sauna, or to accustom their body to the cold. We recommend the SWIM SPA to anyone who do not feel like to spend too much time and money maintaining his swimming pool.
SPA Studio s.r.o.